3 Homepage
3.1 Where do I start?
The homepage for the toolkit is divided into six key areas:

Anybody who is new to travel planning, or is uncertain whether their site will qualify or benefit from a Travel Plan, should consult the About section.
Those looking for background planning information or reference material about travel planning should access the Resources section.
The toolkit will allow people to search for Travel Plans previously completed on this system. This will be available through the Find section.
Anyone who has access to a previously completed Travel Plan and wants guidance on how to apply it on site should access the Implement section.
Any individuals or companies who want to create and manage their own Travel Plans should click on the Design section (log in details required – see Section 4).
Any local authorities who want to review and manage Travel Plans in their area should go to the Assess section (log in details required – see Section 4).
3.2 Navigation
In addition to the six key areas identified in the previous section, several other navigation features are available on both the home page and throughout the rest of the toolkit.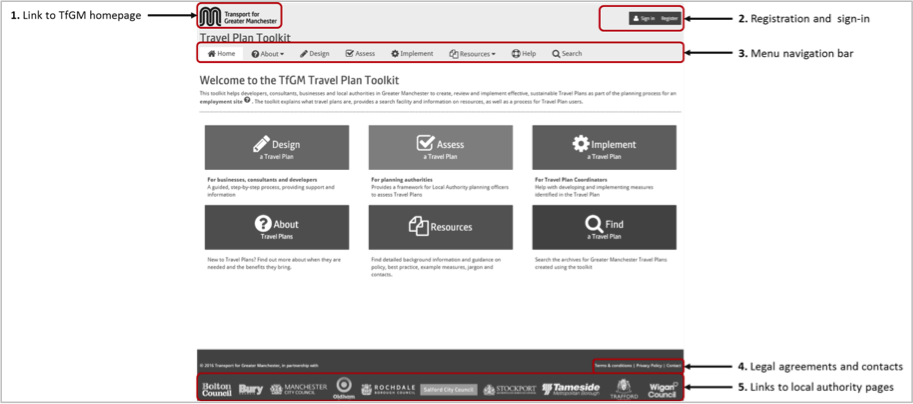 Link to TfGM homepage – links to the homepage of TfGM.
Registration and sign-in – provides links to your user account (if registered), as well as access to the registration and sign-in areas (see Section4).
Menu navigation bar – includes links to the six key areas of the website, as well as access to the toolkit homepage and help documentation. Access to sub-menus is provided alongside headings with a down arrow (▼) where available (see image below).
Legal agreements and contacts – provides access to the legal agreements underpinning the use of the toolkit and links to key contacts.
Links to local authority pages – The toolkit has been developed in partnership with all 10 local authorities in Greater Manchester. Links to each authority are provided at the bottom of the page.